"Paradoxically, the best way to make ourselves happier is by focusing on the happiness of others"

Andy Puddicombe.
I know quotes like the above can come across as somewhat cheesy, but they're certainly true. I wish I realised earlier [not just in trading but in life] how fulfilling helping other people and contributing to the growth of others is, and for this reason one of the things I've become most passionate about in life is helping people, because as much as I love trading, it isn't nearly as fulfilling as helping someone who's stuck with theirs, someone who's struggling to take the money from the markets that is there waiting, but who doesn't yet have a strategy and needs to learn one to take the first step towards becoming a profitable trader.
If the above sounds like you, I can help.
Within trading, I've helped various people who've found me and approached me in regards to;
Simply getting started as a trader i.e. Where to begin, understanding the basics, understanding chart/s, finding the right broker for you, etc.
Understanding what strategy you need to succeed, by finding out what your goals are i.e. Are you better suited to a shorter-term day trading strategy, or a longer-term swing trading strategy?
Learning a simple, viable strategy that works
Finding an edge and turning this into a viable strategy
Expanding on their current edge/s
Collating behavioural and/or performance data that gives them the belief in the strategy they're trading that's needed to instil the confidence required to execute flawlessly and with consistency
Trade management i.e. Holding to target, backing up decisions such as scaling out, moving to break-even etc. with data that identifies the most profitable way to approach making these decisions
Fine-tuning entries, exits or other aspects of their strategy and approach to the market/s that they trade
Removing emotion…
…and a whole host of other problems and issues that are preventing them from realising the profit that is there waiting to be taken from the markets.
Doing this, helping traders learn, grow and make progress within their trading has led to receiving some fantastic feedback;
I also mentor traders, teach my strategies and provide a combination of both; Sharing my approaches and providing on-going support, making sure the traders I teach gain a comprehensive understanding of the markets and gain profitability from the off, and if they face any struggles I'm always right there at all times to offer support, guidance and to keep them on track.
The strategies I share are those that I physically trade myself on a daily basis, these being;
My mechanical rule-based Session Momentum edge that presents trade opportunities that occur once at the beginning of each session. We execute on this setup and then leave each position alone. There's no management required whatsoever which allows us to completely remove emotion from our trading, so no more itching to exit early, move stop-losses and so on.
My mechanical rule-based Price Reversion edge that presents trade opportunities that occur once at the beginning of each session. We execute on this setup and then leave the position alone. Again, there's no management required whatsoever which allows us to completely remove emotion from our trading.
My mechanical rule-based Higher-Timeframe Bias Bar edge. We're able to apply this setup to all markets, and after identifying the setup we look for, we simply place an order and then leave the position alone. Again, there's no management required whatsoever which allows us to completely remove emotion from our trading.
My D1 swing edge. This is my longer-term approach to the markets that I trade on a daily chart [Although it can be applied to any timeframe] that I manage out-of-hours, typically holding positions from a couple of weeks to a few months. On an average day I spent 10 minutes looking over current positions to make sure they're ticking along and no adjustments need to be made. An extremely time-efficient and relaxing way to profit from the markets and brilliant for those who work day jobs.
…and the traders I've shared the strategies with, more of whom you'll hear from further down this page, have gone on to make quite frankly life changing amounts of money using them, much like Matt [below] did, who making over £10,000+ by joining me in a Japanese Yen trade that delivered +8.21R: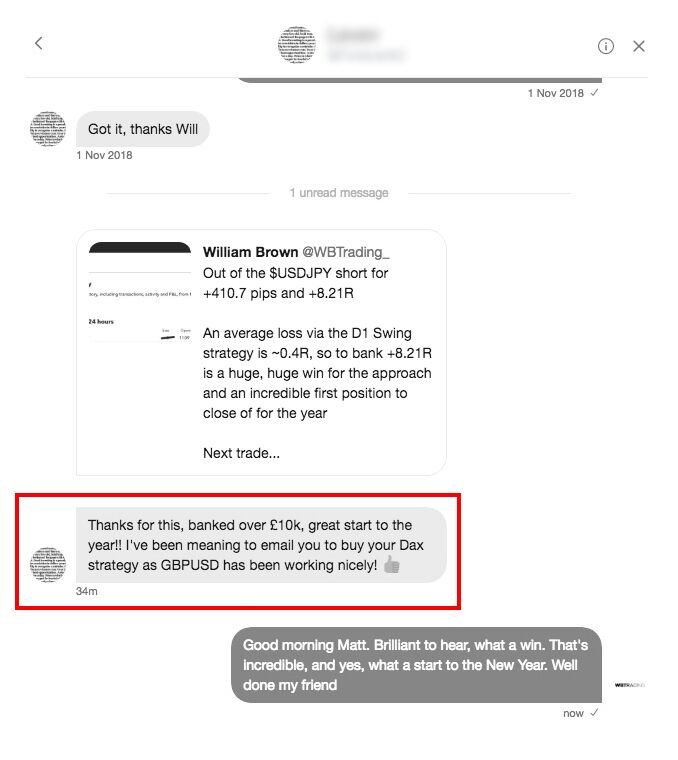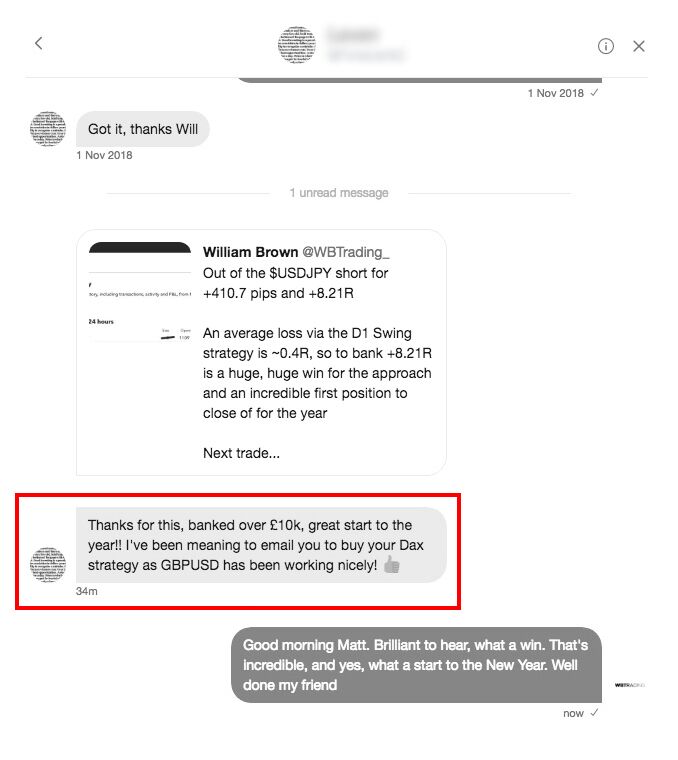 But with that said, and life-changing amounts of money aside, some people aren't looking for huge sums of money, they're simply looking to pull £50 per-day or £100 per-day out of the markets, consistently, much like Graeme does by using the Price Reversion, Session Momentum and Higher-Timeframe Bias Bar strategies: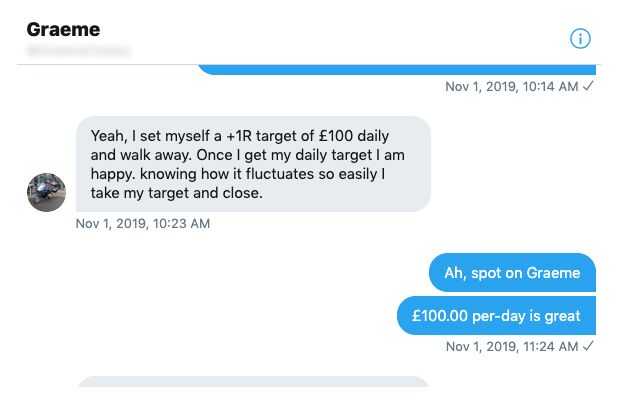 …and whilst as Graeme says himself he's "trying not to run" or get ahead of himself, an extra £600.00 added to the bank balance in a single week by following a set of mechanical rules can't be complained at:

Want to trade my strategies alongside me?
Please click here.
Or, if you'd like to enquire about mentoring;
william@wbtrading.co.uk

Take Vishal for example. He dropped me a message on Twitter explaining that he was struggling with his process and with gaining consistency. He asked if I'd be able to jump on Skype to show him how I collate data on a potential edge, and to help him to tighten up his strategy.
We spent a couple of hours discussing how I've done this in the past, and continue to do so, and I helped him build a spreadsheet of his own which we put together during the call. The session was fantastic and he went away confident and ready to trade his edge.
Two weeks later I received another message from Vishal…
Simply put, with a little of my time and help, Vishal went from unsure about his strategy to executing with confidence and making money [in two weeks].

Or take Tanzin for example; He approached me sharing his story of having relied on free online resources through the past i.e. YouTube videos, following traders via social media etc and having only ever lost money in the process…
He decided that he wanted to finally take his trading seriously by learning a strategy that works, and so joined me in trading my Price Reversion edge;
From there and by finally trading with edge, it was only a month before he'd taken his small £500.00 account up to +£1,425.00. He then returned to add in all three of my other strategies, but that was back in mid '19.
…a few short months later I received the below tweet from Tanzin;
He'd taken that small starting balance of £500.00 right up to £6,225.00 by using the strategies that we now trade together in less than a quarter. His feedback didn't end there, either…
Fast-forward just a few months and his small initial starting balance of £500.00 had grown to mid five-figures, exceeding £20,000.
As if that wasn't enough, as he says himself, he was able to make "weekly withdrawals of between £4,000.00 and £6,000.00" along with paying off his car loan, helping to fund his parents home renovation and putting down a deposit on a new apartment for himself to move into, all via his trading account using the strategies I shared with him.
…his feedback really does speak for itself.
Above all, he's now trading profitably, consistently and more importantly with complete confidence and belief in his process and the sources of edge provided by the strategies that we trade together.
…and as if all of the above wasn't progress enough, fast-forward just one short year since he joined me, and he's recently passed the much-lauded FTMO proprietary trading firm test, receiving $100,000 in funding from the firm;

Or take Thomas for example; He dropped me an Email explaining that he was struggling to refine his current strategy, fit his trading around his work-day and find confidence in executing trades, managing trades, letting his positions reach their target and building data that proved his methodology would deliver profitable trades over the long run, resulting in the confidence needed to let his positive expectancy come to fruition.
We spent a couple of hours discussing all of the above and I put together a plan along with a list of actionable steps for him to take to improve his trading going forward. I felt that he left the conversation with confidence, ready to trade his edge.
Three weeks later I received the below Email from Thomas…
Following our Skype mentoring call, to add diversification to the strategies he trades Thomas later returned to me, learning all three of my strategies, and his confidence, ability and understanding of the markets – Not to mention his profitability – Skyrocketed.
A few months later, it felt incredible to receive the below;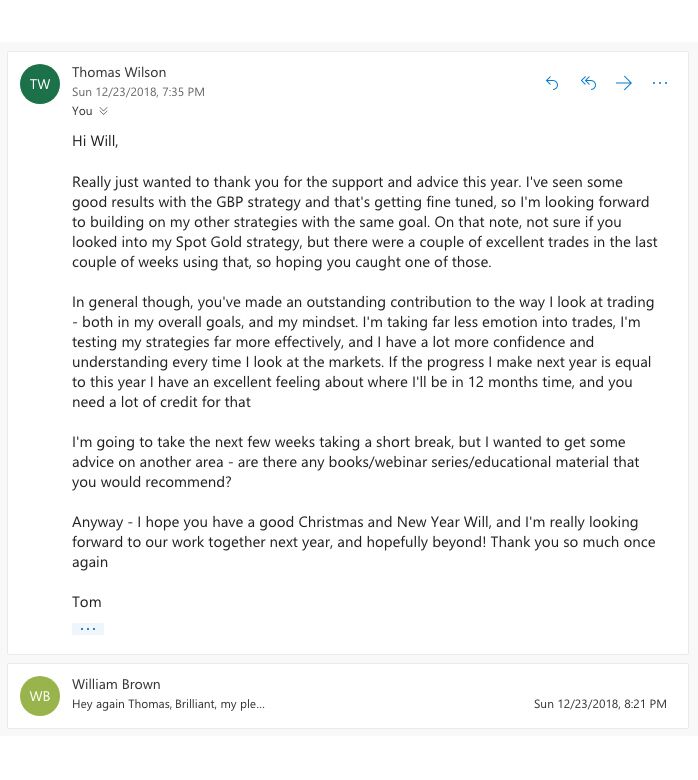 …and that was back in 2018.
Fast-forward twelve months, and Thomas is now consistently profitable and more confident than ever, as we discuss together in our interview below [click the image to listen now].
Feedback this positive and substantial is hugely inspiring and humbling to receive, and it speaks for itself in regards to the value I've been able to add for Thomas within his trading by simply sharing my tried, tested strategies and providing free, ongoing support.

You see, results aren't achieved by simply learning a strategy…
In my opinion, the traders I work with achieve these results because – And this is what sets me apart – I explain exactly how and why my strategies work in-detail, and I back this up with two things;
Firstly, statistical proof of their performance, and secondly, me. I physically trade these strategies every single day, alongside you, meaning I'm with you every step of the way.
No contact forms, no bots, no auto-replies, no sending an Email and waiting a week for a response. I'm with you, on-hand all day every day via Email or via Skype to answer your questions, make sure you're correctly trading the setups we'll be trading together, and providing completely free and ongoing support and guidance.
…I promise you, you won't find the same level of dedication and commitment that I pride myself on providing anywhere else.

And not only do I share the strategies I trade and welcome you into trading these alongside me, more importantly, I give you the how and the why…
When you've taken a look inside how I found and built my strategies, and more importantly how I built the statistics that prove they work, you'll be able to take my process, find edges and build strategies of your own going forward, opening up endless profitable opportunities.
…or, simply trade my strategies alongside me, and continue to bank winning trades just like the below Price Reversion edge trade that we took last Monday by applying the edge to the DAX market;

Or take Mitul for example; He is another one of the traders I work with who is trading all three of my strategies, who initially dropped me an Email asking if I'd share the approach with him along with providing on-going mentoring to ensure his success going forward.
When I provide mentoring, I make absolutely sure that I'm always on-hand to provide guidance as and when needed at all times via all networks, be that via Twitter message, Email or Skype, to make absolutely sure that the traders I teach are going forward with absolute confidence, and anyone who I've mentored will attest to my passion for providing this level of support.
Over the interim period of him getting to grips with the edge we spoke each morning via Email, confirming our entry, exit, target and risk so that I could make sure he was following the rules with patience whilst allowing our statistical edge to play out.
Mitul went from lacking a clearly defined edge and being confused with his discretionary decisions to executing and regularly profiting from the Session Momentum edge with complete confidence and conviction with a clear risk-outline and a concrete understanding of his edge, completely turning his trading around in just a couple of weeks.

These are the kind of results that my Price Reversion and Session Momentum strategies provide. The below image shows the exact trades we took across one week in January by applying the Price Reversion edge to the DAX market and the Session Momentum edge to the GBPUSD market alone;
11 trades. 7 wins, 4 losses. +14.2% account growth.
Risking 1% per trade, we banked £1,754.66
…in just five days.

I also continue to offer support via Email to the traders who join me in trading my approaches, and I make a point of following up with them to see how they're progressing;
It's always great to look in on a member of the community and receive feedback like the above. Jack touches on the importance of trading a diversified handful of strategies, pairing my Session Momentum and Price Reversion strategies with his own trend-following approach.
…and it's never a bad thing to know that those with day-jobs are banking profits with ease between leaving for work and arriving at work, which is the major advantage of a mechanical 'set-and-forget' edge in that all we need to do is execute, and walk away.

I also just received a message from another trader I helped recently, Chris Rowlands;
I shared my Session Momentum edge and my Price Reversion edge with him and also spent time with him on Skype to expand on how I built the mechanical, rule-based approaches so as to remove all emotion from trading, along with providing guidance on correctly managing risk whilst building a small account.
To say he's done well, as we all have all year long (Remember, both of my Session Momentum and Price Reversion strategies are mechanical, so we all take the same trades and see the same results) is an understatement.
A +30R month via the Session Momentum edge and +782 points via the Price Reversion edge is, I'm sure you'll agree, absolutely incredible and shows just how powerful both strategies are in terms of performance.

Or take Weib for example; He is another of students trading both my Session Momentum and Price Reversion strategies who again, initially dropped me an Email asking if I'd share the approach with him along with providing on-going mentoring to ensure his success going forward.
As Weib expands on above, my strategies not only allow a trader to implement 'if-then' rules and follow a statistically proven approach to trading the setups I've identified, they also teach new traders my exact process for uncovering an edge within a market, along with how to view a market from a professional perspective; That being with the building of statistics in mind to generate future edge as the markets change and expand.
To simplify the above, you can either take my edge, trade it and profit from it, or use the statistics, data and outline I provide to expand on my strategy/s and take them in your own direction, even carrying them into other markets.
The feedback from Weib didn't stop there either. Two months after welcoming him to my community I received the below;
It's feedback like this that really drives me to continue helping the traders who choose to work with me to achieve real, tangible results as they progress, going from strength-to-strength and most importantly, finally taking the money from the markets that has been waiting there all along.

This is the reason I put myself out there, share my strategies and take the time to respond to the traders who email me. Receiving feedback like all of the above genuinely makes me happy and is incredibly fulfilling.
There's no better feeling than contributing to other people's growth, and when feedback like the above arrives in my inbox, from traders all over the world on an ever increasing basis, it further drives me to carry on adding as much value to others as I possibly can.
Take Soni as another example;
He learned my Session Momentum & Price Reversion strategies, and later came back to me when he needed some advice and guidance when it came to building his own edge/s, strategy/s and data spreadsheets, all of which I'm incredibly passionate about helping people with…
And again, more great feedback, and the above further reinforces that what I'm doing is helping people and adding value, which only inspires me to endeavour to carry on doing everything I can that's of benefit to the traders who approach me and choose to work with me.

…still feeling unsure? Doubtful? Sceptical? Daniel Lake felt that way too, but he took action, and he was glad that he did;

So, if you're feeling unsure about your trading, confused and overwhelmed by the many available processes and discretionary strategies that leave you guessing and struggling to predict the market, and you'd like to adopt one of my rule-based approaches to the markets, completely removing emotion, click here.
Or maybe you just need some help tightening up your edge, process or want to understand how to record data and statistics to improve performance? I provide mentoring for this very reason, I'm here to help if I'm needed. All it usually takes is a session on Skype and I'm confident that I'll be able to help you change your trading for the better and achieve the freedom to pursue your passion for trading;
I'm more than happy to have an informal chat via Email if mentoring is something you think would benefit your trading going forward.
Get in touch!